Opening hours: 7 am to 8 pm - 7/7 days
Réno Climat
Ask our sales team about our financing program.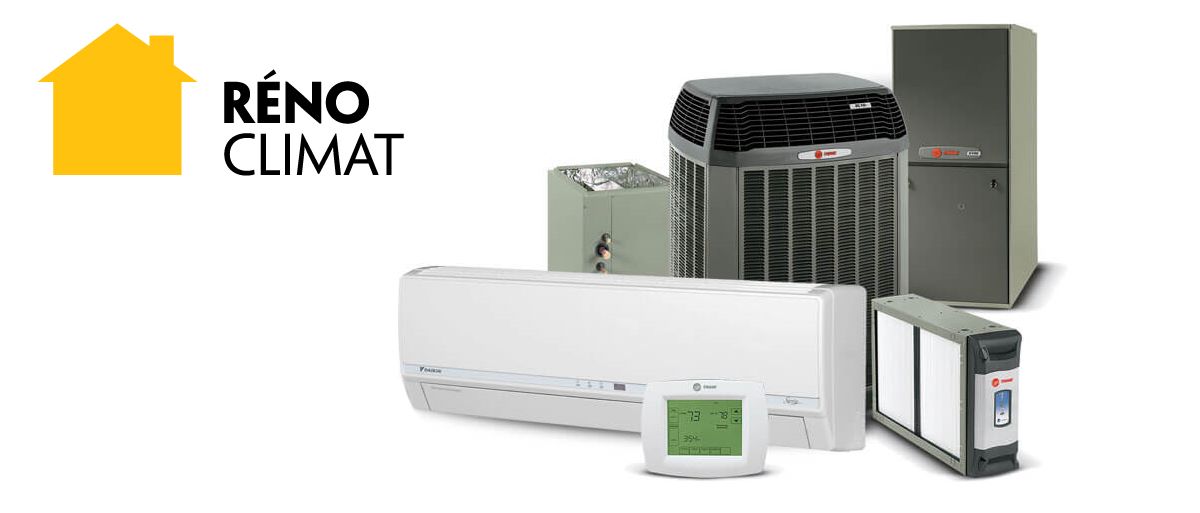 Subsidy and RénoVert tax credit
Rénoclimat Subsidy: (Energy and Natural Resources, Quebec) up to $650 to $1100 in 5 steps Consult the details to join the Rénoclimat subsidy program offered by the Government of Quebec.
Step 1 - Appointment:
Fill out the appointment request form. A Rénoclimat agent will contact you.
Rénoclimat does not make any direct solicitation. Beware of so-called representatives who offer you a home visit...
Step 2 - First visit:
The Rénoclimat agent carries out an energy study of your property to determine your EnerGuide rating. It is essential that this analysis take place before the work begins.
A fee of $150 plus taxes will then be charged, but $100 will be refunded on the second visit.
Step 3 - Work :
Proceed with the work, guided by the recommendations contained in the energy study report.
Step 4 - Second visit:
Once your renovation projects are completed, contact the Rénoclimat agent again at 1 866 266-0008. They will evaluate your EnerGuide rating improvement at no charge.
Step 5 - Cheque:
If you are eligible, you will receive the financial assistance application form by mail 6 to 8 weeks after the second visit. After you have sent it, wait another 6 to 8 weeks to receive a cheque for the amount of your subsidy.
Green Power Program

RénoVert tax credit
Carry out eco-responsible home renovations and take advantage of the Green Power Program temporary tax credit.
This tax credit is applicable on work relating to a home's mechanical systems: heating, air conditioning, water-heating and ventilation systems.
See details to join the Green power subsidy program offered by the Government of Quebec.
Heating

- Installing an ENERGY STAR certified air-source heat pump
- Replacing the heat pump of an existing geothermal system
- Replacing the oil heating system with a propane or natural gas system
- Replacing the oil, propane or natural gas heating system with an electric system
- Replacing the oil, propane, natural gas or electric heating system with an approved integrated mechanical system (IMS)



Air conditioning


- Replacing a window or central air conditioner with an ENERGY STAR certified air conditioner
- Replacing a central air conditioner with an ENERGY STAR certified air-source heat pump



Water heater


Replacing an oil water heater with a propane or natural gas water heater, provided the new water heater is one of the following :
ENERGY STAR certified instant water heaters with an energy factor (EF) of at least 0.90
Condensing tank type water heater with 95% or higher thermal efficiency
Replacing an oil, propane or natural gas water heater with an electric water heater



Ventilation system


- Installating an ENERGY STAR certified fan/heat recovery unit or fan/energy recovery unit